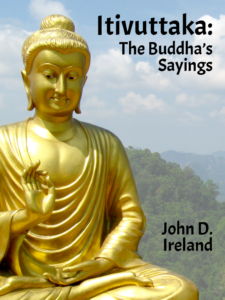 Below you will find complete audio recordings of the four chapters of The Itivuttaka, translated by John D. Ireland as found in The Udāna and the Itivuttaka, Two Classics from the Pali Canon, Translated by John D. Ireland. ©1997 Buddhist Publication Society. Click on the links below to download. You can also download an e-book version of the translation here.
These files are created and distributed with the permission of the Buddhist Publication Society.
If you are listening a little bit each day as part of a regular practice, you may want to use the printable checklist of the Khuddakanikaya found here.
Individual Suttas as Single MP3 Files
The links below are bundled as zip files for each chapter.
56 kbps – Smaller File Size
Whole Chapters in a Single MP3 File
Related: