When Bhikkhu Bodhi published his complete translation of the Anguttara Nikaya in 2012 he created a guide for new readers to follow that would take them through most of the suttas in a way connected by topic. At this time not all of his translations are available on the internet, so below is the same guide linked to translations done by Bhikkhu Sjuato on SuttaCentral.net. If you would like a sample of Bhante Bodhi's translation, you can get a free sample ebook here.
View this guide on the WisdomPubs.org website.
Print Checklist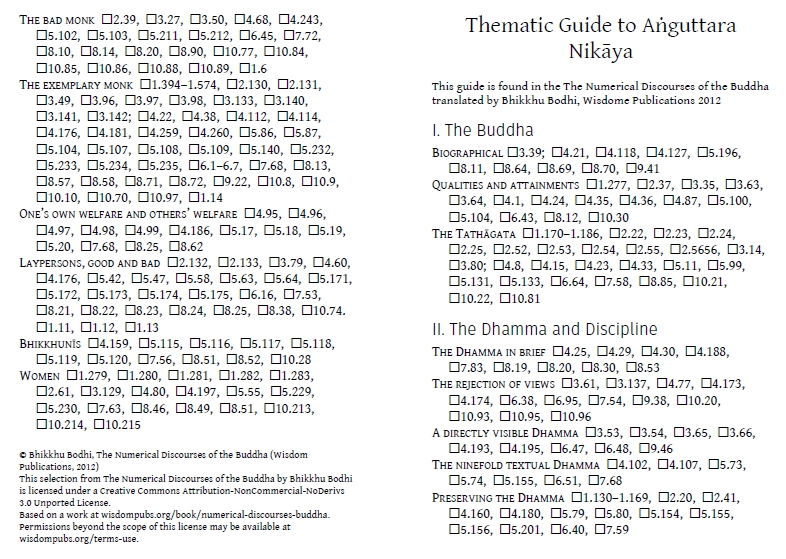 You can use this print checklist to keep track of what you have read.
A4 size
Letter size
On-Line Linked to SuttaCentral.net
I. The Buddha
Qualities and attainments AN1.277, AN2.37, AN3.35, AN3.63, AN3.64, AN4.1, AN4.24, AN4.35, AN4.36, AN4.87, AN5.100, AN5.104, AN6.43, AN8.12, AN10.30
II. The Dhamma and Discipline
III. The Shifting Kaleidoscope of Experience
IV. Maintaining a Harmonious Household
The family
V. The Way Leading Upwards
VI. Dispelling the World's Enchantment
VII. The Defilements of the Mind
The springs of bad conduct

Obstacles to meditation

Bondage to saṃsāra
VIII. The Path of Renunciation
IX. Meditation
X. Wisdom
XI. The Institutional Saṅgha
Disputes, schism, and harmony AN2.15, AN2.63, AN3.95, AN3.124, AN4.243, AN5.54, AN5.78, AN6.11, AN6.12, AN6.36, AN6.46, AN6.54, AN7.23, AN10.37–AN10.43, AN10.50, AN10.87
XII. The Community of Noble Ones
Types of noble ones AN2.36, AN3.21, AN3.25, AN3.86, AN3.87, AN3.88, AN4.5, AN4.87, AN4.88, AN4.89, AN4.90, AN4.131, AN4.241, AN7.14, AN7.15, AN7.16, AN7.55, AN7.56, AN8.59, AN8.60, AN9.9, AN9.10, AN9.12, AN9.43, AN9.44, AN9.45, AN10.16, AN10.63, AN10.64
XIII. Types of Persons
---
© Bhikkhu Bodhi, The Numerical Discourses of the Buddha (Wisdom Publications, 2012)

This selection from The Numerical Discourses of the Buddha by Bhikkhu Bodhi is licensed under a Creative Commons Attribution-NonCommercial-NoDerivs 3.0 Unported License.
Based on a work at http://www.wisdompubs.org/book/numerical-discourses-buddha.
Permissions beyond the scope of this license may be available at http://www.wisdompubs.org/terms-use.
Related: